Bike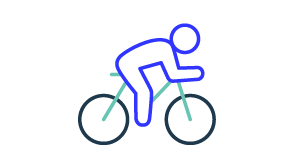 View or download our local transportation map here to see area bike trails in relation to Metro stations, bus stops, nearby businesses, and more. Highgate Connect transportation specialists are available to help you discover the best bike paths for your commute! 
View the Fairfax County Bike Map to see your numerous bike options throughout the region. 

The mission of Capital Bikeshare is to transform the community by providing a high quality, convenient, and affordable bicycle transit system that will connect people to more places in the region, where they live, work, or play.
Capital Bikeshare 101 (how to use)
Capital Bikeshare is Metro DC's bikeshare service, with 4,300 bikes and 500+ stations across 6 jurisdictions. Tysons is home to 14 Capital Bikeshare locations, making it a convenient way to navigate the area around Tysons Central. 
You can rent a bike for 1 day or 3 days, a month, or even for a full year.

The first 30 minutes of each trip is entirely free. 

Bikeshare is ideal for short trips and one-way trips and can be great for connecting to other modes of transportation, such as bus or metro. 

The closest bikeshare station to Brentford is located just steps away, at the corner of Jones Branch Drive and Scotts Crossing Road.